Helping
our Community
The Rotary Club of Howick is dedicated to serving our community and one way we do this is by organising events such as the Fun Walk Run
Helping
our Environment
The Rotary Club of Howick was one of the founding partners in the formation of the Mangemangeroa Reserve and is dedicated to protecting the environment. One of the ways we do this is by promoting and participating in tree planting initiatives.
Helping
by giving back
The Rotary Club of Howick is committed to giving back to the community in meaningful ways. One of the ways we do this is by supporting Howick Coastguard.
Helping Young People
The Rotary Club of Howick is dedicated to providing opportunities for young people in our community.
From our youth programs, we strive to empower and support the next generation to reach their full potential.

Previous
Next
Welcome to Howick Rotary Club
Where a lively diverse group of people with a shared passion for giving back to our community while having fun come together.
---
We offer a range of activities and projects that you can participate in, whether on your own, as a couple, or as a group.
Not only will you have fun and make new friends, but you'll also make a difference in our community.
If you're interested in learning more, please don't hesitate to reach out to Rob at 021 413 341 or rob.mary@xtra.co.nz for a casual, no-pressure conversation.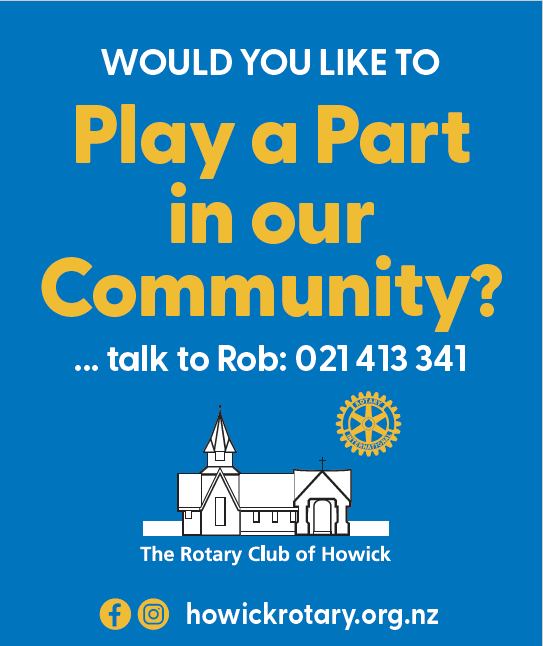 When do we meet?
We meet 2nd and 4th Tuesdays
of the month for dinner
What time does it start?
5:30pm Social get together
6:00pm Meeting start
Where do we meet?
Howick Club Inc
107 Botany Road, Botany Downs,
Auckland 2010

Get directions